SUN 'n FUN Aerospace Expo, Lakeland, Florida, March 28, 2023 – Daher and Garmin today announced the G1000® NXi integrated flight deck retrofit for earlier-production Kodiak 100s, bringing next-generation avionics technology to in-service versions of this multi-role turboprop-powered aircraft.
The upgrade – unveiled at the SUN 'n FUN Aerospace Expo, is to be available through the Garmin dealer network; as well as Daher-operated maintenance facilities in Sandpoint, Idaho, Pompano Beach, Florida and Tarbes, France; along with Kodiak Authorized Service Centers.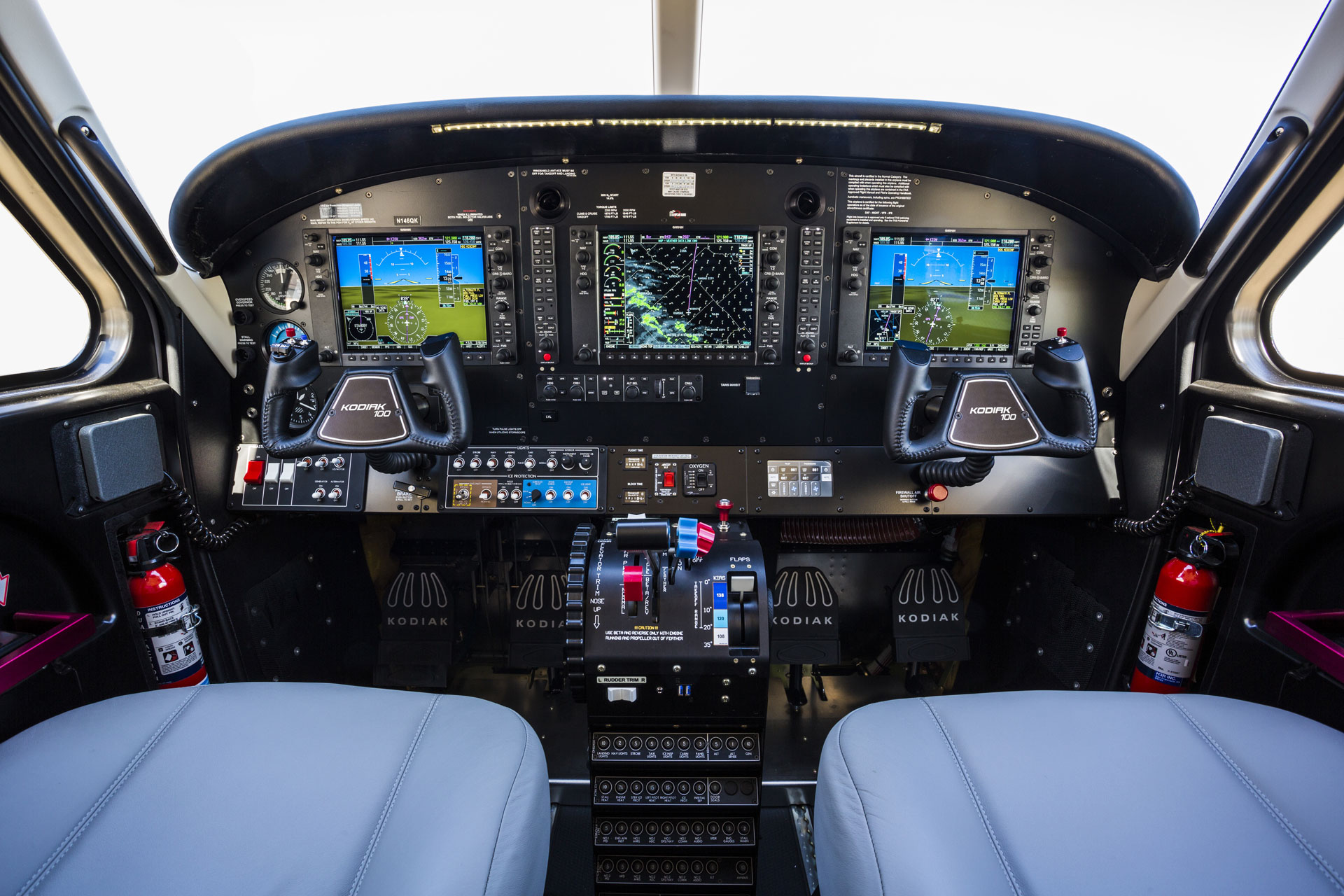 Incorporating a modernized flight display design with significant performance enhancements, the G1000 NXi delivers innovative capabilities in a state-of-the-art avionics platform.
Among the G1000 NXi's features are SurfaceWatch™ runway monitoring technology, geographical map overlay within the HSI (Horizontal Situation Indicator), wireless cockpit connectivity via the Flight Stream 510 multi-media memory card, and visual approach capability for autopilot-coupled glidepaths to pilot-selectable minimums. With the GTX™ 345R Transponder included in this upgrade package, the G1000 NXi system offers benefits of ADS-B "In."
"Bringing the modern G1000 NXi integrated flight deck to the Kodiak 100 is fully aligned with Daher's strategy of serving our customers with upgrades and enhancements throughout the life of their aircraft," said Nicolas Chabbert, the Senior Vice President of Daher's Aircraft Division.
Carl Wolf, Garmin's Vice President of Aviation Sales and Marketing, added: "We are excited about bringing this modern integrated flight deck to earlier Kodiak 100s. The G1000 NXi offers leading-edge capabilities and significant performance upgrades that will help pilots fly safer and reach their destinations easier."
The G1000 NXi retrofit kit's recommended price is $62,995. Kits are expected to begin shipping in the third quarter of 2023.
About Daher – www.kodiak.aero / www.tbm.aero
As an aircraft manufacturer, industrialist, industrial service provider and logistician, Daher achieved a revenue of 1.3 billion euros in 2022. Backed by its family shareholding, Daher has been focused on innovation since its creation in 1863. With more than 10,500 employees and offices in 13 countries, mainly in Europe and North America, Daher designs and develops value-added solutions for its aeronautical and industrial customers and partners.
About Garmin – www.garmin.com
Garmin products and services have revolutionized flight and become essential to the lives of pilots and aircraft owners and operators around the world. A leading provider of solutions to general aviation, business aviation, rotorcraft, advanced air mobility, government and defense, and commercial air carrier customers, Garmin believes every day is an opportunity to innovate. Recipient of the prestigious Robert J. Collier Trophy for Garmin Autoland, Garmin developed the world's first certified autonomous system that activates during an emergency to control and land an aircraft without human intervention.
Daher is on the following social networks:
About Daher's aircraft product line – www.kodiak.aero / www.tbm.aero
Daher manufactures two families of single-engine turboprop airplanes: the Kodiak utility aircraft in Sandpoint, Idaho, USA, and the very efficient pressurized TBM in Tarbes, France.
The Kodiak 100 Series III is an unpressurized 8-10-seat airplane equipped with Garmin's G1000 NXi avionics, capable of operating on uneven and unimproved runways, or on water in the amphibious version. Its unique combination of robust construction and remarkable 3,530 lb. useful load has resulted in many additional applications for the Kodiak, including special missions, medevac, as a skydiving platform and more.
Daher introduced the larger Kodiak 900 version in 2022, featuring a fuselage length extension of 3.9 feet for more passenger room and cargo space, a cruise speed increase to 210 KTAS, and a greater useful load while offering a maximum range of 1,129 nm.
Current TBM models in production are the TBM 910, equipped with Garmin's G1000 Nxi avionics system, controlled by a keypad; and the TBM 960, featuring Pratt & Whitney Canada's PT6E-66XT engine and a dual-channel digital Engine and Propeller Electronic Control System (EPECS), an autothrottle, Garmin's G3000 avionics with touchscreen controller, and the HomeSafe™ emergency autoland system. Both models offer increased automation and superior performance.
As of March 20, 2023, a total of 321 Kodiak and 1,132 TBM aircraft had been delivered to international owners and operators, with the global fleet accumulating some 2.5 million flight hours.