Tarbes, France; Sandpoint, Idaho, USA; August 21, 2023 – For the third consecutive year, Daher has topped Professional Pilot (Pro Pilot) magazine's annual Product Support Survey in the turboprop airplane category, with both the TBM and Kodiak aircraft included in this leading industry publication's ratings for the first time.
In achieving the no. 1 position, Daher swept the 2023 Pro Pilot survey with top marks in all seven categories for which aircraft owners and operators are asked to judge: company response time; spares availability; cost of parts; speed in AOG service (aircraft on ground); technical manuals, technical representatives; and service satisfaction.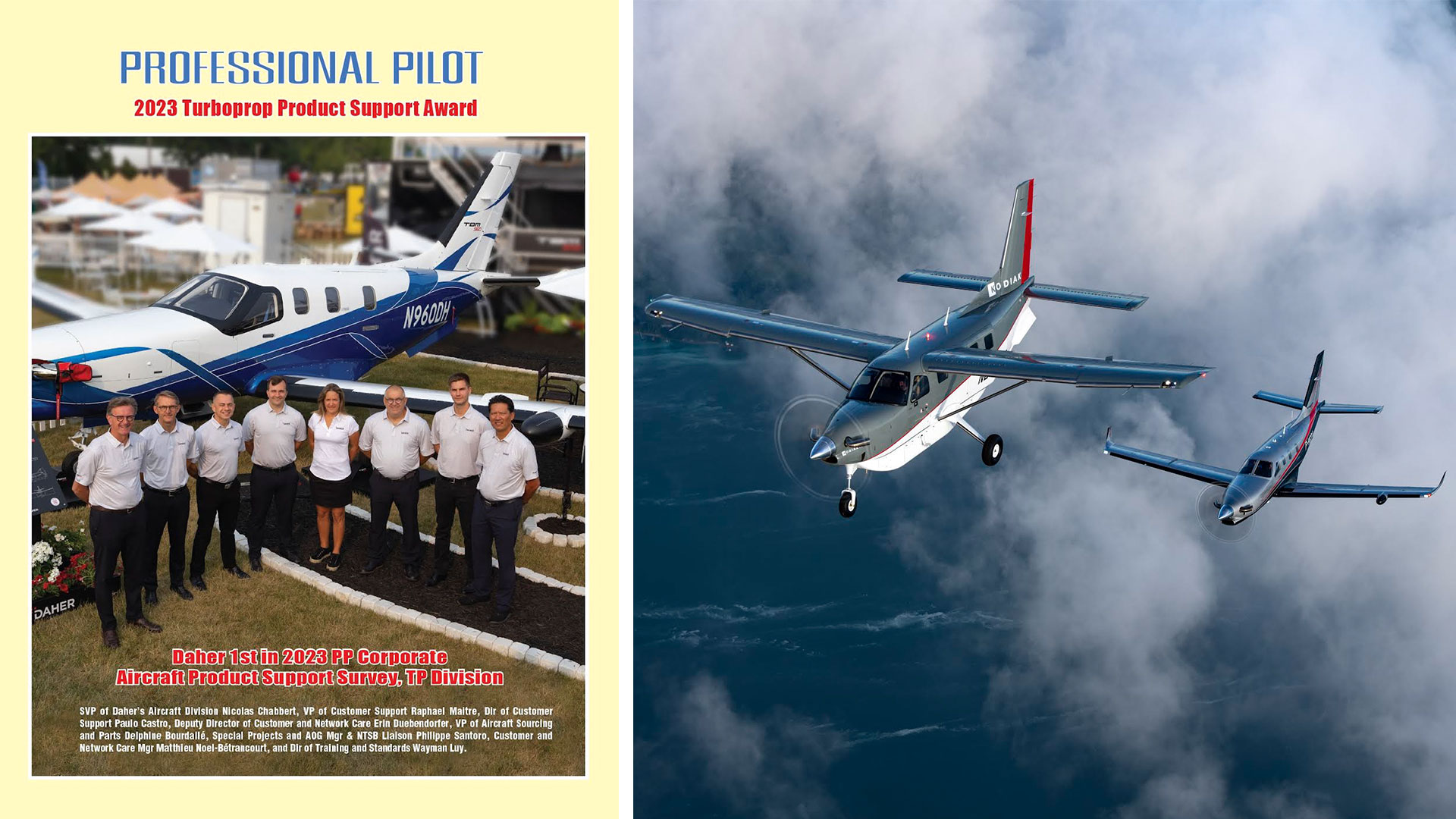 "Customer service and operational safety go hand-in-hand as the top priorities at Daher, and this survey once again is a confirmation of our commitment in these critical areas," said Nicolas Chabbert, the Senior Vice President of Daher's Aircraft Division, and CEO of Kodiak Aircraft. "My thanks go to the TBM and Kodiak owners/operators who participated in the 2023 Pro Pilot survey. I also want to acknowledge the dedication of our own TBM Care and Kodiak Care teams, as well as members of the global Service Center Network."
Professional Pilot's annual Product Support Survey is considered a benchmark in the rating of aircraft manufacturers' after-sales service quality – with 2023 marking the 33rd year of the publication's evaluation.
The latest survey includes both product types in Daher's turboprop aircraft product line, with Pro Pilot incorporating Kodiak and TBM for the first time since Daher acquired Kodiak in 2019. Pro Pilot's policy is to rate newly acquired product lines separately for three years after an acquisition; therefore, Kodiak joins TBM for ratings under Daher's identity in the magazine's evaluations as of 2023.
Raphael Maitre, the Vice President of Customer Support at Daher's Aircraft Division, said the company is constantly evolving its support strategy to meet the needs of TBM and Kodiak owners/operators. This includes the successful integration of Kodiak services into the company's expanded and strengthened support Network, along with a unification of its own Kodiak Care and TBM Care teams.
"Additionally, we have taken great strides in putting 'digital power' to work for our aircraft operators, with our Me & My TBM cloud-based application as one example," Maitre added. "This app has taken us from preventive maintenance to a new era of predictive maintenance by bringing together some 600 parameters from every TBM flight – including data points from the engine, propeller system, autopilot and autothrottle, landing gear, and cabin pressurization."
In publishing the 2023 Product Support Survey's results, Pro Pilot magazine's editors cited the feedback from some of the TBM and Kodiak aircraft owners/operators who participated in this year's evaluation, including:
"Daher just keeps getting better and better. We've owned 8 TBMs. It's an ideal aircraft for our missions in the eastern half of the U.S. Product support is incredible. We feel like part of their family, not merely customers."
"Product support received from Daher and a 3rd-party service center has been excellent."
"Both instances of out-of-warranty repair were completed within the timeframe promised, and with minimal out-of-service time. Daher is always responsive to our inquiries."
"Operating a TBM 850 has been a pleasure. And Daher continues to provide world-class service to the TBM fleet, including great communication with owners and operators."
Media contacts: Jeffrey Lenorovitz
Daher Vice President – Communications
e-mail: j.lenorovitz@daher.com
U.S. mobile telephone: +1 703 615-3646
Int'l mobile telephone: +33 (0)6 80 85 86 25

Philippe de Segovia
Daher's Aircraft Division
e-mail: p.de-segovia@daher.com
Tel: +33 (0)6 70 21 70 47

About Daher – www.daher.com
As an aircraft manufacturer, industrialist, industrial service provider and logistician, Daher achieved a revenue of 1.3 billion euros in 2022. Backed by its family shareholding, Daher has been focused on innovation since its creation in 1863. With more than 10,500 employees and offices in 13 countries, mainly in Europe and North America, Daher designs and develops value-added solutions for its aeronautical and industrial customers and partners.
Daher is on the following social networks:
About Daher's aircraft product line – www.kodiak.aero / www.tbm.aero
Daher manufactures two families of single-engine turboprop airplanes: the Kodiak utility aircraft in Sandpoint, Idaho, USA, and the very efficient pressurized TBM in Tarbes, France.
The Kodiak 100 Series III is an unpressurized 8-10-seat airplane equipped with Garmin's G1000 NXi avionics, capable of operating on uneven and unimproved runways, or on water in the amphibious version. Its unique combination of robust construction and remarkable 3,530 lb. useful load has resulted in many additional applications for the Kodiak, including special missions, medevac, as a skydiving platform and more.
Daher introduced the larger Kodiak 900 version in 2022, featuring a fuselage length extension of 3.9 feet for more passenger room and cargo space, a cruise speed increase to 210 KTAS, and a greater useful load while offering a maximum range of 1,129 nm.
Current TBM models in production are the TBM 910, equipped with Garmin's G1000 Nxi avionics system, controlled by a keypad; and the TBM 960, featuring Pratt & Whitney Canada's PT6E-66XT engine and a dual-channel digital Engine and Propeller Electronic Control System (EPECS), an autothrottle, Garmin's G3000 avionics with touchscreen controller, and the HomeSafe™ emergency autoland system. Both models offer increased automation and superior performance.
As of July 15, 2023, a total of 330 Kodiak and 1,150 TBM aircraft had been delivered to international owners and operators, with the global fleet accumulating nearly 3 million flight hours.